Who: Marcus Habib and Ravi Dueland
Do: CEO, Vice President Sweam
Where:  Helio Kista
Marcus Habib and Ravi Dueland are located at Helio in Kista and together with Jih-Dar Chen they are the founders of the company Sweam. They are currently in the midst of the launch of their smart mini projector with the same name. We talked with the crew to find out more about their product, work and their time at Helio.
We are very curious about you, tell us about Sweam!
In essence, our product can be described as the result of a smartphone and projector having a baby together! Our smart projector is based on Android so you can download all your favorite apps, hook up your Sweam to 4G or to your local WiFi network and in addition, it is designed so you can easily put it on its sida and project towards the ceiling.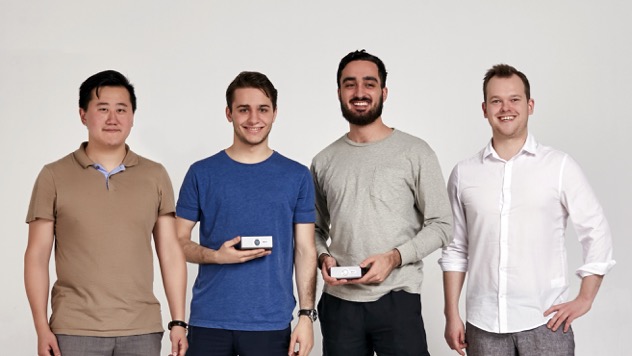 So Sweam is a completely stand-alone device so that we can watch anything at any time, correct?
Right, Sweam is a completely stand-alone device, like your smartphone or tablet. You can give a presentation in a conference room, watch your favorite series in the ceiling above the bed or a movie on your TV-free wall.  It is wonderful to be able to watch a movie in HD-quality on a picture of a hundred inches, exactly where you want.
How did you get the idea for the mini projector?
The idea came when we encountered a common problem and started brainstorming about a possible solution. Often when we have been in meetings there are difficulties associated with configuring your computer with the projector or TV-screen in the meeting room. Either there is no HDMI-cord, MAC-adapter or so it is an error with the projector. Many colleagues both within our industry, but also in others have experienced the same problem and have had to waste precious time on technicalities. It was when we got this insight that we began to think, discuss and develop the idea that we would bring out the most convenient portable mini projector on the market.
You went live on Kickstarter December 4 to enable a mass production of Sweam, tell us more about your plans! What is in the pipeline?
We are in the process of setting up necessary but costly licenses for the product and then our plan is to go into production by the end of the year. Then we'll start delivering our products to our supporters on Kickstarter, and some time after that you will be able to buy the product in the store or via our online shop.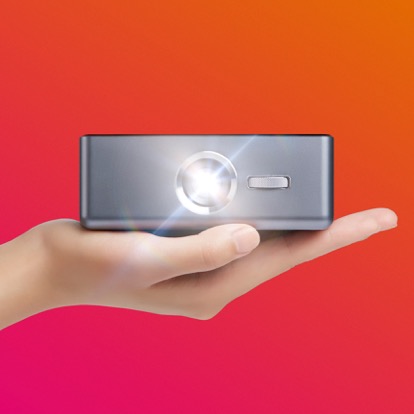 In which way does Sweam stand out compared to similar products on the market?
Sweam is the first smart projector to maintain the same quality that we expect from a better smartphone or tablet. It is simply the first product in its category which is good enough to be considered groundbreaking.
How much are we actually looking at movies and series today? What do you think the future looks like?
Compared to 2012 we nowadays spend 4 hours more in front of mobile screens but 60% of video watching still takes place in front of desktop monitors. We see an increasingly mobile lifestyle, but it is obvious that we still prefer the desktop options, when we have the opportunity to use those. In the future we will not have to choose between mobility and the best experience. We want to cater to the trend by defining a new category of mobile devices.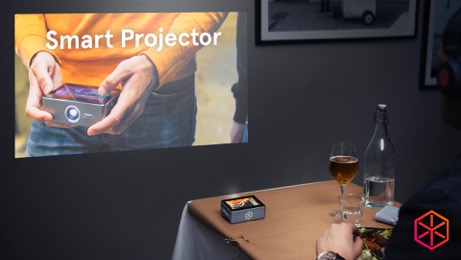 What do you think about sitting in a co-working environment?
We love that all the office necessities we need are already in place so that we can only focus on our own business and its development. In addition, it fits us very well to have access to several locations in Stockholm since we are very mobile in our work and we often sit on other sites than the one in which we have our permanent site.
Your R&D department is located in Shenzhen, what is it like to work in China?
China is a country that is rapidly evolving as seen particularly well in Shenzhen. The cool thing is that there is so much competence centered in the same city which makes it possible to develop high-tech products very quickly. It is a very inspiring city to work and be in.
We were told that your first prototype was completed on China's national day, why was it so special to you?
The national day is an important holiday in China, and it can be compared to how we in Sweden feel about Christmas Eve. It shows how motivated and dedicated our partners are to create & produce this product.
We wish Sweam the best of luck and hope that the production will boost soon, perhaps on Christmas Eve itself!
If you want to know more about our memberships, you can read all about coming a member here.
To read more about Sweam click here, in order to support them via Kickstarter, press here.