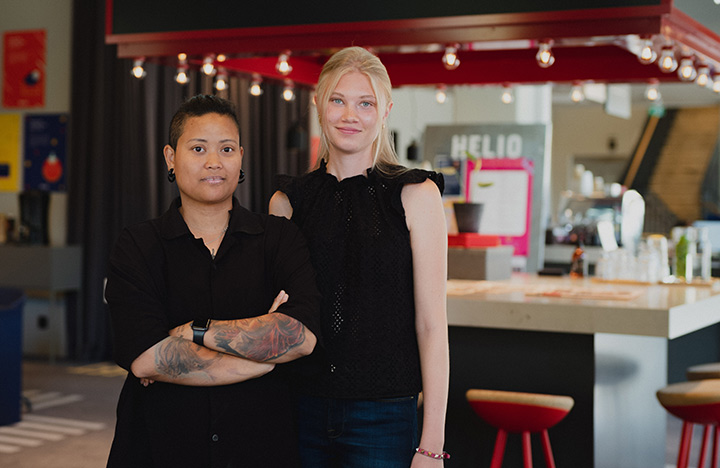 Time is money in Europe's largest tech hub
On the main street, in the middle of Europe's biggest IT cluster, you'll find us in Kista Time Building, where everything is created in the theme of time. At Kista, we have a community of ambitious members (most are tech companies, of course) who work in our co-working space and in our studios. Our meeting rooms can fit from 2-120 people and Ericsson, Tele2 and the Kista Convention Center are just around the corner.
Find us
Kistagången 12
164 40 Kista
Subway Station Kista, Commuter Train Helenelund
178
Parking Area outside
Parking Outside
Memberships & plans
Open

2650 sek/mo

Fix

3350 sek/mo

Studio

CONTACT US

Meeting Rooms

starting at 299 sek/hour
Read more about memberships
Other locations
Flexible Offices & Coworking Space in Kista
You can find Helio in the middle of Kista, the Silicon Valley of the Nordics. Our location opened here in 2016 with spacious flexible and serviced offices, as well as conference rooms in Kista. Several fast-growing companies in tech and medtech are sitting in our flexible office here – which looks far from a regular serviced office. Your can handle everything around your membership via our app, and most things are included in the membership. Welcome to Kista!
Read more
Read less
Our coworking space in Kista
An office is no better than the people in the office. Our vision is to ​​create a work environment that will inspire you every day. With our exciting, but timeless interior design, and sharing office space with people from all possible types of industries and specializations, you will grow both as an individual and company.
Coworking is many small companies share office space, but also knowledge and experience between each other. Many smaller companies go through similar challenges, and there is always someone you can learn from when it comes to marketing, fundraising or what the next step is for your company.
At Helio, we opened our first coworking space in 1998, so we've seen the magic of collaboration happen right before our eyes. Every week, we have communal activities such as breakfasts, coffee and yoga. Our community managers make sure you get to know the other members in the space.
When it comes to our flexible offices in Kista, we have made sure to capture the culture of entrepreneurship that characterizes the district. Our office spaces are modern, with open floor plans and a homely feel. Our studios at our office hotel in Kista are carefully designed with ton a day-light and space for 2-10 people. A few of our rooms have connecting doors if you are a larger company.
Find a serviced office in Kista
Before you decide to rent a serviced office in Kista, we advise you to take a look at the different memberships we offer. These will help you and us decide how we can accommodate you best. If you are a fan of coworking spaces, you should invest in our Flex or Fix membership. It always includes most things for your office to work perfectly. It starts with coffee – we focus on quality from Bergstrands Rosteri in Gothenburg. Organic and Fair Trade of course.
With flex or fix,  you share an open office with others. If you are more private and like to be able to close a door around you, you should take a closer look at the Studio membership where you can have your own office. Then of course we also have meeting & conference rooms so that it is enough and will be over.
In our flexible office, located in Time Building, there is of course all the new technology you might need for your meetings, including screens, projectors and 1000 mbit WiFi. We are also more than happy to help with any specific inquiries you may have.