Meet the entrepreneur, influencer, and our new Site Manager, Aysha Jones. 
Finally, we get to give Isatou Aysha Jones, our new Site Manager at Helio Kista, a proper welcome and introduction. This is a girl with many balls in the air and she has a lot of experience from her past. Aysha was born in Gambia and moved to Örebro when she was two years old. Since 2002, she's been based in Stockholm, but has commuted to London and Gambia on different missions within the fashion industry. Today, Aysha lives in Tensta with her three children – 14, 9 and 8 years old – and runs a political fashion blog, is an Instagram influencer and has recently published her first cookbook. 
Q: Aysha, what did you dream of as a young girl? 
A: I dreamed a lot, and I dreamt big. I wanted to become a model, cafe owner, author and professional soccer player. When I was in high school, I wanted to become a psychologist, but I ended up in the fashion industry instead.
Q: Tell us about your journey from then to where you are today. 
A: I was discovered because I only wore clothes from female designers and clothes bought in Tensta. First, I worked as a model, but after having children, I started coaching other models. I also worked as an agent and today I host workshops, small fairs and socially critical model contests. Today, I write deep articles about politics and female empowerment through my blog. Fashion and beauty can also be deep.
Q: And now you've also published a West African cookbook. Where did that idea come from? 
A: As I said, I always wanted to become an author, but I also dreamt about writing a cookbook. So, I combined the texts I had written during my upbringing in Örebro with recipes from Gambia and I created a unique, anti-racist cookbook. The texts are connected to my relationship with food, and my experience growing up as a black woman in Sweden. There's a chapter called "The Burned Meatball's Day". That's what I was called as a child, and that's why I didn't eat meatballs growing up. In the cookbook, I replaced the protein part of a traditional Gambian dish with meatballs to make peace with meatballs!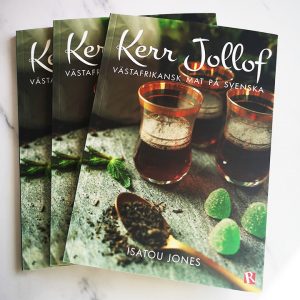 Q: How are you managing all of this?! Many of our members are also entrepreneurs and are juggling everyday life with a packed professional life. What's your pro-tip? 
A: To create and nurture relationships with people around you. I would never have made it by myself. It's important to find people who believe in what you do and want to see you succeed, and to help you get there. Other than that, I'm good at planning and using my time efficiently!
Q: What are your thoughts on the future of Helio Kista? 
A: Certainly, I have many ideas! But most of all, I want to use Kista's location to invite, inspire and include young entrepreneurs in the area – Tensta and Järva. My idea is to start a Learn@Lunch at this location too, and to use local restaurants and food trucks for seminars where also youths in the area can be inspired or be the ones on stage.
Q: What's been your most fun mission, before Helio, of course? 
A: Tough question! It must be the time I was the press contact during Akon's concert in Sweden in 2015. I organized most of it, apart from the technical bits, and Akon personally praised me after.
Q: What's your best beauty tip for our non-morning-person members? 
A: Acasia sheet masks. It stays on your face, so you can walk around with it on. Keep some in the office and start your morning with a fresh cup of coffee and a face mask in the lounge.
Q: Thanks Aysha, and welcome to the Helio team! 
If you would like more tips from Aysha, feel free to visit us as Helio members at our Kista office. Check out our Kista memberships here.
Photo: Katriina Mäkinen (portrait) & private (book).