Society is changing at a pace never before seen. Offices have been caught in a crossfire of different trends, making coworking the trend of the future. Although coworking has been popular for a while, the Corona virus has accelerated this further. One reason for that is the rapid end of retail, digitalization and the separation between work and office. Here's our list of why coworking is going to be the future norm, and why we'll soon be wondering why we ever signed long term contracts on unfurnished office spaces when what we really needed was something completely different.
One plus one equals three
Whether you work by yourself or for a big company, you can use the knowledge and experiences of others from different industries. Anything from hosting user tests or focus groups with other members to simply asking the person sitting next to you. The insights are all around you.
Change is good
White laminate furniture and lights are fine for some people, but others want a bit more out of their office than that. Coworking spaces often have open spaced, light floor plans and have been decorated by interior designers who have spent hours creating the perfect combination of quiet zones, coworking zones, phone rooms and different types of seating.
True ergonomics isn't about sitting the same way all the time, but about moving around between high, low and soft seats, working standing up and taking short walks. That's possible with coworking spaces!
Things get done
If you're used to sitting in a typical office for a big company, you know how long some processes can take. A broken ventilation system or finished toner can take weeks to fix. At a coworking space, you have people dedicated to making sure the office is running as it should every day – they make sure any problems that arise are taken care of.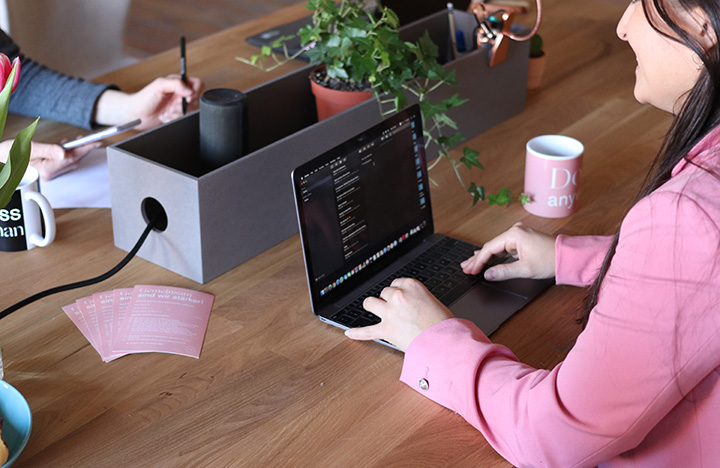 New contacts
You'll meet new contacts, whether you like it or not. You can sit with them, go to seminars together, drink coffee and get to know each other, leading to your network expanding and your insights increasing.
At Helio, we've got both freelancers and companies with employees, as well as people working for global stock listing companies who have chosen to work at Helio because our offices simply fit their lifestyles and schedules better. Others work for foreign companies who don't have offices in Sweden.
Breaking barriers between industries
Interdisciplinary innovation. It's an incredibly difficult term, but really, it's not that complicated at all. By interacting with people from different backgrounds and disciplines, you're forced to leave your bubble and work with people who don't have a clue about what you do. Magic occurs when you combine different knowledges – design + programming + sales knowledge + marketing.
Have more fun at work
You spend about a third of your life at the office – so why should it be a boring place? A lot of people spend hours and hours perfecting their decor at home, but they don't actually spend a lot of time awake there. With coworking, a lot of care is put into the architecture, design and activities for members so that you stay inspired every day.
The world is an uncertain place
Have you budgeted for a pandemic? To look into the future is something humans have never been able to do, but the difference is that business moves faster than ever today. Digitalization has allowed this growth to happen at an accelerating rate, while also being able to shut down business in an instant as demand on the market can quickly be verified.
That, in turn, means that it's difficult for companies to know in advance whether their offices will still be needed in 3 years or 5 years – the length of most contracts. Whether the number of employees is 1000 or 4, development happens quicker than ever with all the digital tools and mediums at our disposal.
This was our list of 7 reasons to why coworking will continue to take over market shares in the future. If you're curious about Helio offices, you can read our complete guide to coworking here, or reach out to us at info@helio.se or 08 522 232 00 to come for a tour. We're located in Östermalm, Slussen, Malmö, Gamla Stan, Hornstull, Hötorget and Kista. Welcome!