Today, there are coworking spaces everywhere you look in all the major cities in the world. But it's only recently that the phenomenon has really exploded. Before that, coworking was a specialized product that only some companies used.
Below, we've listed some important years in the history of coworking. Both internationally and in Sweden.
1995 – The first coworking space – C Base – was founded by hackers in Berlin and was called "Hackerspace". The idea was to share both space and knowledge in order to work on coding projects together. After that, some hackerspaces started adding seminars and social events, which made it more mainstream and lead to the opening of more coworking spaces. At the end of 1995, there were "Hackerspaces" in San Francisco, Santa Clara and Brooklyn, and the trend kept growing.
1995 – The word "coworking" was first used by Bernard DeKoven, who described it as "working together as equals". Freelancers, or people working for different employers could work together and share their ideas and tools within the network. So, in the beginning, the word "coworking" was used to describe a form of collaboration, not the space itself.
1998 – Sweden's, and perhaps the world's first coworking space opened on Sveavägen 9, in Stockholm, and in the so called Hitech Building. The place was called "The Summit of Hitech Building" and was inhabited by the dot-com companies during the bubble at the end of the 90s. Letsbuyit.com had over 100 desks.
2002 – Two Austrian entrepreneurs started an "entrepreneurs' center" – Schraubenfabrik – in an old factory in Vienna. They focused on finding other entrepreneurs to work with in the same spirit. In that space, a mix of PR-consultants, startups and freelancers began working. This was one of the earliest examples of we call coworking today.
● ● ● ● ●
2005 – Brad Neuberg opened what's known as one of the first coworking spaces in the world – San Francisco Coworking Space. He thought home offices and classic office hotels were antisocial and counterproductive. The space offered desks, free WiFi, shared lunches, collective bike rides, meditation and massage, and closed at 17:45 sharp.
The same year, St. Oberholz opened their first free internet cafés in Berlin. St. Oberholz is still a meetup point for startups in Berlin and the upper floor is lively and aglow every day.
2006 – The San Francisco Coworking Space got a new name – Hat Factory – and expanded with Chris Messina – the founder of the Twitter hashtag – who joined as one of the founders. So, the founders were Brad Neuber, Chris Messina and Tara Hunt. At this point, Hat Factory was just one of about 30 coworking spaces around the world.
2007 – The word "coworking" was first seen on Google and the searches increased immensely. The term "coworking" became established and entered the English version of Wikipedia.
2008 – At the end of 2008, there were about 160 coworking spaces in the world and the growth continues to accelerate.
● ● ● ● ●
2009 – Betahaus opened in Germany, and was the biggest coworking space to open in Europe up to that point. Germany was in the lead of the development of coworking in Europe.
2010 – The first #CoworkingDay was celebrated by the movement on August 9 and is still celebrated every year. The first coworking conference was held in Brussels. At this time, there were 600 coworking spaces all over the world, with over half of them being in North America. WeWork was founded by Adam Neuman and Miguel McKelvey.
● ● ● ● ●
2011 – The first "Coworking Unconference" was held in Austin, Texas. Angel investors start a network of new spaces. Big companies began exploring coworking and opened their own coworking spaces, specialized in corporate coworking.
201 – A milestone is reached – 100 000 members collaborate in coworking globally. During the summer, coworking spaces amount to 3000. Most are still sole companies, and there were still only a few chains or large companies.
● ● ● ● ●
2015 – The New York Times wrote about a new idea – combining coworking with traveling. The article was called "Co-Working on Vacation: A Desk in Paradise" and was about combining coworking with coliving on Gran Canaria on the Canary Islands. The surf office was born and grew to get many followers from different places in the world. It was also the start of the "workcation" trend for digital nomads, people who could bring their work to any location in the world.
2016 – HSBC moved their employees to a coworking space in September. This is just one of many examples of big companies choosing to cowork. KPMG rented hundreds of splaces for their employees in London and New York. Microsoft and IBM also chose to let their employees work from coworking spaces. This trend with big companies choosing coworking is expected to keep growing.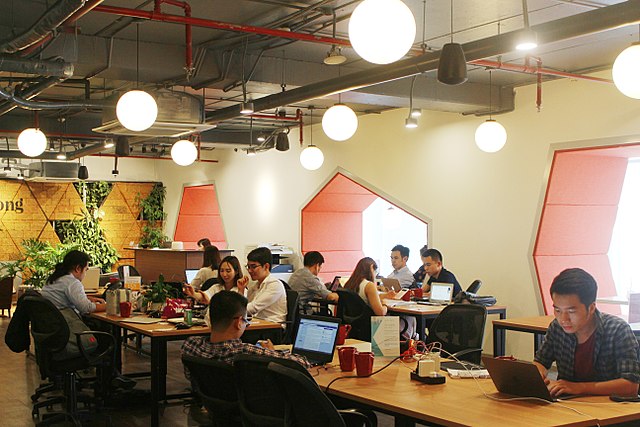 2016 – The combination of coworking and coliving continued to develop, and WeWork launched coliving in New York. They were micro-apartments with one or two bedrooms. They were furnished and ready. Each coliving unit also had a community manager that solved practical questions or planned events.
2017 – Helio GT30 opened in Stockholm. It was the first house of its kind in Scandinavia, where 11 500 square meters of offices were built into a collaborative workspace with coworking, gyms, restaurants, a bar, podcast studios, event rooms and outdoor offices.
2017 – WeWork grew in value and beceme the most valuable tech company in the US along with Uber and AirBnB. Together, they were worth 47 billion dollars. Now, 1,2 million people in the world work in coworking spaces.
2018 – More and more investors began showing interest in the market, and apart from WeWork, Knotel, Convene, Industrious, TOG and Mindspace they began expanding rapidly globally. Real estate companies also began working on their own concepts to keep up the fight for tenants.
2018 – Coworking still grew exponentially and different companies pre-rented over 20% of all the new office spaces in London in 2018.
2019 – WeWork imploded with a failed IPO that lead to CEO Adam Neuman's dramatic departure. WeWork's value dropped quickly from $47 billion to $3 billion, which made it possible for the biggest investor SoftBank to take control over the company and change the management.
2020 – The global pandemic hit the industry hard and there's been talk about whether offices will actually be needed in the future. On the office market, an uncertain future is to be met, where many industry experts think that the future trend will be cutting bigger offices and replacing those with coworking spaces.
If you're looking for a new office or are interested in coworking, you can always check out our memberships here. We're always available at info@helio.se or at 08 522 232 00 for any questions!