There may be many reasons to why it might be the time to move to a new office. Perhaps your current spaces are too limited for your workforce, or it may simply not stimulate creativity for your employees anymore. Whatever the reason is, an office move might be next up on your agenda. In this article, we've compiled a guide for everyone who's looking to move offices. We'll give you our best suggestions on what to keep in mind ahead of a move and a checklist that might be a good starting point.
In this article, we've compiled a guide for everyone who's looking to move offices. We'll give you our best suggestions on what to keep in mind ahead of a move and a checklist that might be a good starting point.
● ● ● ● ● 
8 Suggestions for a smooth office move
Normally, you need a whole lot of planning to pull off a smooth transition between two offices. Today, many companies use their offices as a branding strengthening tool and to attract new workers. That's why it's important that the new office holds that standard.
Below are eight suggestions on how to find a fitting office space and how to make a smooth transition.
1. Analyze your needs
Step one of the moving process includes making a thorough analysis of the company's needs. If you're running a larger corporation, you might want to hire a professional office space strategist and learn from their objective thoughts.
When it comes to the company need analysis, you need to be looking through the long-term lens. What do the upcoming years look like for the company's development? Will you need to hire more people if you grow according to plan? How will the way you work change and what new needs will develop? Are you sure about what you think you'll need in the next 3-5 years, or should you look at shorter leases at office hotels?
Some ways to analyze needs are include web surveys, holding interviews with employees or hosting workshops. Combine these methods for a truly thorough analysis.
● ● ● ● ● 
2. Assign a project manager or task force
Assigning a project manager ahead of the move is a smart planning strategy. Bigger companies might need an entire project task force with employees from different company divisions. Don't forget that this group also needs a leader.
The purpose of the project task force is to attend to as many needs and wishes within the company as possible. The demands between employees might differ greatly between divisions. Although a workplace is seldom perfect, there are always ways to make it as good as possible for as many as possible.
● ● ● ● ● 
Compile a list of requirements
The ideas of the project task force as well as the needs analysis should make it possible to compile a list of requirements for the new offices. This list should simply consist of the qualities and functions that the new offices should have.
Here are some points that could be lifted:
Layout. Are you looking for an open floor layout or private offices?
Budget. The budget will decide the size and location of the new office.
Number of conference rooms. How many conference rooms do you need and how big?
WC. How many restrooms are needed?
Traditional or coworking. Do you dare sign a 3-5-year long lease or would you like the freedom to grow or shrink as needed?
Kitchen and file room. Do you need spaces for these?
Storefront. Is it important to you to have a good street storefront?
Display areas. Does your company need spaces for displays or showrooms?
Location. Where is your company's ideal location? How important are communications? How big of a parking lot do you need for cars and bikes?
By listing these points, it'll be easier for you to sort through offices that don't meet your requirements. It will, though, be difficult to find a space that checks off all the points. So, be prepared to compromise.
● ● ● ● ● 
4. Schedule showings
The next step is to review all your selections and schedule showings. It might be a good idea to contact a realtor that works with real estate companies and specializes in helping companies find new spaces. You can show the realtor your list of requirements and let them select fitting objects for you.
Granted, you can scour through available spaces on your own, with the help of listing websites, for example. Two good sites to use are Objektvision.se and Lokalguiden.se. You can also search through the websites of real estate companies. Schedule showings on the objects that fit the bill.
During the showing, it's important that you ask questions and remain objective. There are some questions you'll need the answers to:
The efficiency of the spaces. Don't blindly stare at the square meters. Look at how much space is actually ready to be utilized.
Services. Find out if the building offers any form of services that could be of use. When it comes to coworking, you can usually benefit nicely from services, while traditional office spaces might lack this.
Moving assistance. Ask the property owners if they can help out with the move. Perhaps they could help you with demounting/mounting or alarm installations? This will save you a lot of time.
Remember, also, to document the spaces. Take pictures and videos. It'll be easier for you to describe the spaces to your coworkers and to those making the final call.
● ● ● ● ● 
5. Make a decision
It's time to make a decision. Hopefully, you've found a new office space that lives up to the needs of the company and its employees. If yes, it's time to sign that contract.
Thoroughly read through the leasing contract and find out who's responsible for everything from ventilation to trash, electricity, heating, water and cleaning. Further down, you can read about things to consider before signing a new lease. There's a huge need of flexible offices, where you'll pay a monthly fee that covers everything from printers to reception, Wi-Fi and cleaning. Helio offers many types of offices – you'll find them here.
Keep in mind that many property owners offer green leases. The purpose of this is to lessen the negative impact on the environment by using green electricity, sustainable waste disposal and thought through material choices.
● ● ● ● ● 
6. Detail planning
Once you've signed the lease, it's time for detail planning. This is an important phase that could be vital to the working environment and its effect on how well your employees do.
Detail planning includes furnishings, the placements of electrical sockets, textiles and much more. It's also about the planning and installing of wireless networks to alarm and surveillance systems.
Think carefully about the placement of office workspaces. Open layouts have long been popular as they encourage cooperation and communication. All the while, many appreciate the benefits of better concentration as a result of working alone and quietly.
● ● ● ● ● 
7. Update and terminate contracts
The last step before inaugurating the new offices is to update the company's contracts. Surely, there will be many contracts connected to the old facility that will need to be updated, such as phones, broadband, supply deliveries and more.
Don't forget to control the termination dates and binding periods of these contracts – some may last up to 12 months.
● ● ● ● ● 
8. Inaugurate the new office
It's time to move in and inaugurate the new offices – and perhaps time for an inauguration party…? Moving offices may mean a big change for both the company and its workers, but hopefully, you've transitioned smoothly.
Keep trying to strengthen your relationship to the property owners and make regular evaluations to adjust things that weren't right the first time around. It's important that your company continuously tries to create the ultimate workplace for all its employees.
● ● ● ● ● 
Before signing the lease
There are some things you need to know before signing a lease for a new office. Here are some useful suggestions.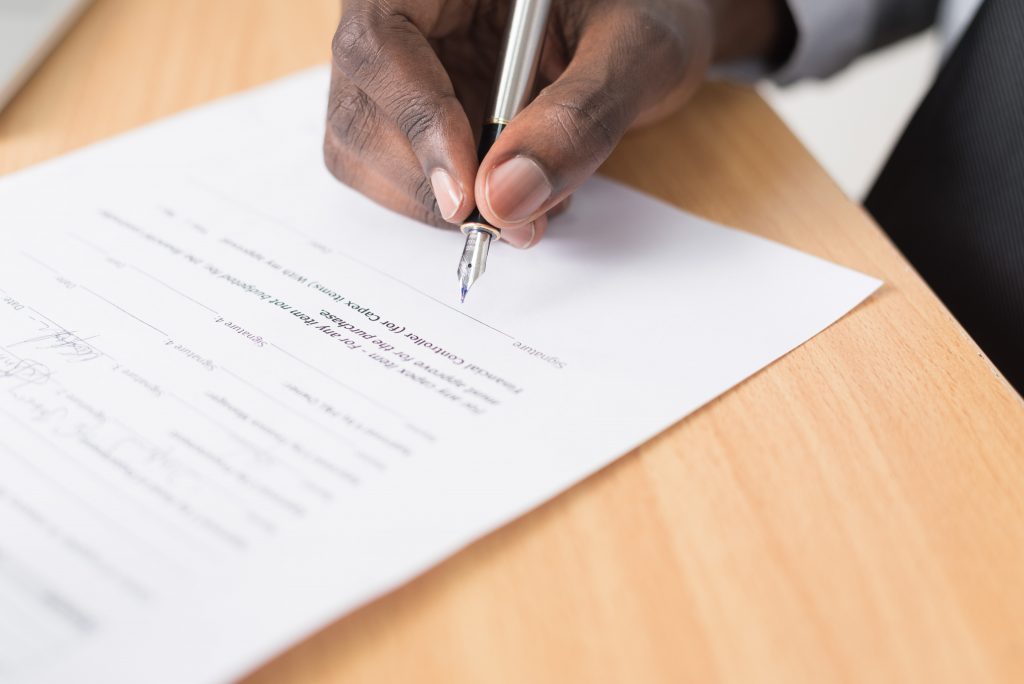 The lease
Many landlords in Sweden use a standard contract from Fastighetsägarna Sverige. The contract was developed in order to simplify the signing process for both landlords and tenants. Many landlords also choose to use special provisions to clarify certain parts of the contract.
You should also familiarize yourself with the Land and Cadastral Legislation. It protects you as the tenant. Some parts of this law can be changed in the contract, while some stand.
Usually, the period of a lease lasts 3-5 years. That might feel like a long time, but it gives property owners time to divide up their investments. What you can do, if your lease period is long, is to make a deal that lets you move out earlier, in exchange for a lump sum. If you feel unsure of what your office's needs will be in 3-5 years, you might want to look at flexible offices with a 3-month notice period. You can find information about such offices here.
Remember to always ask your landlord about points in the lease that you don't understand. It's better to ask too many times than not enough. Feel comfortable using external help to review the lease.
● ● ● ● ● 
Rent and add-ons
The office's rent is normally divided up into parts that can have add-ons, on top of the base rent. Costs for heating may or may not be included in the base rent, this can be added on or you may be charged based on your usage. The property tax may also be charged separately.
Before signing a lease, you should ask the landlord to review all the costs with you. You should also ask about costs that may change during the span of the lease. This is also something that differs between traditional offices and flexible coworking offices. At coworking offices, all the above costs are included in the monthly fee.
● ● ● ● ● 
VAT liable operations within the facility
If your company is VAT liable and you'll be operating VAT liable operations within the facility, VAT will be added to your rent.
If you are running non-VAT liable operations, your landlord will not be able to deduct VAT. The rental costs will thereby rise and the landlord will demand you to pay the extra costs. Therefore, make sure to only run VAT liable operations in the facility you're planning to rent, unless you and the landlord have made other agreements.
Tip! Read more about how VAT works at Entreprenören.nu.
● ● ● ● ● 
Quick checklist for the move
Here's a quick checklist that may be useful ahead of the move.
Begin the moving process
Examine and analyze the company needs
Assign a project leader or a project task force to look out for the employees' needs
Make a list of requirements for the new spaces
Attend showings and find out as much as you can about the office
Present the new office to your employees
Ask yourself if you're willing to sign a 3-5-year long lease, or if your company is more compatible with coworking to be able to grow/shrink in size depending on your needs
● ● ● ● ● 
Ahead of the move
Plan the move and book a moving company
Book in time for demounting and mounting
Order moving boxes well ahead of time
Clean out all clutter that you won't need at your new locations. Perhaps you'll need to order some containers
Order a property inspection by the landlord and order cleaners
Let property managers know about the move
● ● ● ● ● 
Insurance and contracts
Contact your company's insurance company about the move. Ask them about protection should anything break during the move
Make sure all machines are transport-insured
Terminate your old insurance and sign a new deal for your new office
Look over contracts for IT, parking, electricity and alarms. Also go through the contracts for cleaning, food deliveries and supply deliveries. (Unless you sign a coworking office space lease)
● ● ● ● ● 
Phone and IT
Make sure to move all your current internet and phone deals over to the new location. Or sign new contracts
Contact potential suppliers to alert them about the move in order to minimize the risk of interruptions
Control alarms, surveillance and locks
Give your employees new codes and keys
● ● ● ● ● 
Address changes and other changes
Alert the government, post offices and banks about your change of address
Change all address and contact information online
Make new contact material such as contact cards
Mail forwarding is important so that new mail doesn't get sent back
Conclusion
Moving offices takes time and is a big issue for companies and employees. Few companies employ specialists who work with offices, so usually, an office move is a task that's added on top of the daily tasks. Our goal with this guide was to help businesses moving offices. So, we hope you've found some helpful suggestions.
We're always here to answer your questions. Chat with us down in the bottom right corner or contact us by phone or email. Info@helio.se and 08 522 232 00.
 👋